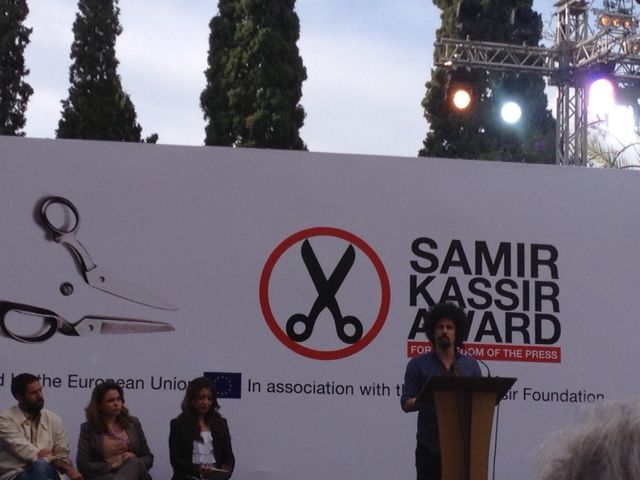 In his short film "Street Music" the Syrian director Orwa al-Meqdad reflects on the antagonism between music as a weapon and music as a means of comfort – a contradictory perspective that mirrors the every so often "schizophrenic" daily life Syrians are subjected to in exile. The movie thereby captures the distinct, sometimes conflicting world between being a stranger to Beirut, and interacting with the beat and the pulse of the city.
Essentially, "Street Music", as one featured artist reflects, illustrates that although music in itself might not be as loud as gunfire, it has the ability of exceeding its noise. Introducing three musicians and a female singer who met in Beirut, the short film captures how the multifaceted rhythm of four genuine characters contributes to the sound of Beirut's streets, and adds a new facet to the art experience within the city's urban environment. It is the vibrant Hamra Street that turns into the temporary stage for the portrayed musicians, who get to express their very own vision of Syria as it is engraved in their memories, and at the same time seek to understand their home country from afar. Thereby, music as a medium of expression is appreciated as both identity-forming and as the product of a variety of life stories.
After all, in his tribute to the potential of the Syrian revolution, al-Meqdad sheds light on the strive of four young people to be accepted in a foreign society while keeping their own identity, and highlights that music can very well be a soft weapon and a place of comfort at the same time. As the singer of the group expresses, "Syria needs people who are alive and are living their lives", and by playing their instruments it seems that the musicians try to regain control not only over their own lives but also over the Syrian revolution.
In the Samir Kassir Foundation's Award Ceremony on June 2, 2014, Orwa al-Meqdad's film that was produced by Bidayyat won as best audioivisual contribution. The award, named after the late Samir Kassir who was assassinated in 2005 is open for entries from the entire Arab world and supported by the European Union.