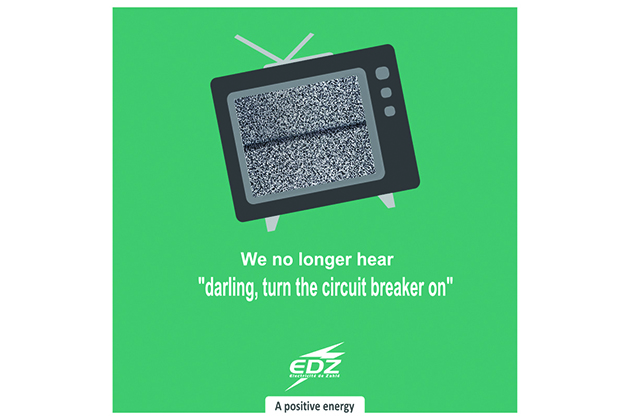 The saga of electricity in Lebanon seems to be endless. Ever since its fifteen-year civil war, which erupted in 1975, the State, through Electricité du Liban (EDL) has been unable (according to some, unwilling) to provide electricity to its citizens on an uninterrupted basis. Power cuts range from a minimum of three hours daily, to about fifteen hours or more in some areas, let alone that rain, increasing demand for air conditioning in summer, and delay in importing fuel oil are often cited as reasons for days of much harsher rationing. Although the State has sustained about ten billion dollars in loss over electricity, power supply is still far from normal and the vast majority of Lebanese end up paying two bills for their electricity: one for EDL, and another for the owners of generator companies which have mushroomed throughout the country and have been part of the daily life of the Lebanese.
For those who take for granted a twenty-four hour supply of electricity, the suffering of the Lebanese may be hard to comprehend. Yet, interruption of power brings about daily suffering in households, not to mention the adverse effect on the environment caused by generators which spread their deadly fumes in densely populated areas.
The lack of reliable and continuous power supply is having an impact on industry and service providers and it makes Lebanon a less attractive country for foreign investors. Thus, it must particularly welcome news, when a regional private electricity company, which is independent from EDL but operates under a concession agreement with the government, promises its subscribers uninterrupted power supply at relatively low prices. This is exactly what the Electricité de Zahle (EDZ) promised its 53,000 subscribers would take place as of February 2015 by reviving an old power plant which they own. The project was estimated to cut down the cost of power per household by an average of fifty percent.
A number of citizens interviewed by the Daily Star (December 19, 2014) expressed their support for EDZ and said that for them, 24 hours of electricity was a dream come true. Yet, in Lebanon, this prospect was doomed to fail, not because it is technically unachievable, but simply because the legacy of the civil war continues. Elizabeth Picard, in her book "Lebanon, a shattered country: myths and realities of the wars in Lebanon" (2nd ed., N.Y. 2002) argues that "the breakdown of the militia economy soon led to the appropriation of the state economy through a system that made room for a culture of corruption to manifest itself". She adds that "the disintegration of the state and the rise of the factionalist 'mini-states' during the Lebanese civil war, initiated the breakdown of the connection between the states (which could not protect them and the community). This was further compounded in the post-war period when former warlords became part of the legitimate state system, and often maintained their wartime followers and supporters. Gradually, the government became the agent of individual and sectarian financial interests rather than being accountable to citizens as a whole".
As it seems to be regularly the case in Lebanon, dreams do not come true, particularly when mafia interests are at stake. As soon as EDZ made its announcement in December 2014, local generator owners openly protested the move by blocking roads and burning tires. More seriously, there has been in February of this year an attack on four transformers used by EDZ, putting them totally out of service and reducing the daily electricity supply by EDZ to a mere 12 hours per day. Although officially no one was caught in the act, the general view among the citizens is that it was carried out by those who would stand to lose their lucrative business if EDZ's plans were to be implemented. The irony is that generator owners use poles and grids provided and owned by the Lebanese government, in a clear defiance of its authority. The State's inability to put an end to the generator mafia meant that citizens of the capital of the Bikaa valley, Zahle, as well as eighteen Bikaa villages, will still have to suffer blackouts, pay two separate electricity bills, and endure the noise and pollution caused by generators which are notoriously hazardous to public health and to the environment. This is a great disappointment to the citizens of the area who lost the chance of ridding themselves of the monthly generator bills -- which are issued at the exorbitant rate of $125 for every five amperes1 -- as well as of being captive to the generators owners, or even worse, to the single available power provider with whose condition they have no choice but to comply.
Those who argue that the aftermath of the Lebanese war still impacts the business culture, among other things, are probably right. It seems that the political will to put an end to the outright exploitation of the citizens is simply not there. The Lebanese are convinced that the generator mafia would not have dared to stand up to EDZ, and indeed to its 53,000 subscribers, had they not enjoyed the cover provided by corrupt politicians. No matter how the game of power and business is run, there is little doubt that the ones who truly suffer are the ordinary citizens who progressively lose faith in their government. Many citizens even argue that because of the prevalent culture, they themselves have in turn to practice corruption wherever they can (through bribery, cheating, tax evasion, etc.) in order to compensate for the "bad deal" on whose receiving end they always find themselves. Corruption as usual breads corruption.
EDZ has been working hard since March 2015, to provide electricity to its citizens in Zahle on an uninterrupted basis despite the setbacks.
Fact box
1.            Lebanon's main electricity provider, the Électricité du Liban (EDL), is a public institution fulfilling industrial and commercial tasks. It was founded by Decree No. 16878 on July 10th, 1964 and is subordinated to the Ministry of Energy and Water. EDL controls 90% of the electricity sector in Lebanon and thus enjoys a monopoly position. The few existing private energy providers sell their production to EDL. Despite its monopoly position, EDL is facing serious economic difficulties, with an accumulated debt amounting to $27 billion2. This is to a considerable extent imputable to administrative inefficiency, which is illustrated by the fact that EDL's uncollected bills alone account for $1 billion.
2.            Forecast of Power Shortages (EDL 2011) (Gap between supply and demand)
                2011: 800 MW (33%) deficit, corresponding to 8 hours a day
                2013: 1330 MW (47%) deficit, corresponding to 13.5 hours a day
                2016: 1909 MW (58%) deficit, corresponding to 14 hours a day
3.            Lebanese citizens are dependent on electricity supply by private generator owners. In 2009, private generation was estimated to account for around 30% of energy production. Generator owners provide Lebanese citizens with electricity in exchange for a monthly subscription fee. The annual subscription costs paid by the Lebanese is estimated at $1.2 billion.
4.            With $0.23 per kw/h, the costs for electricity production in Lebanon are the highest in the world.
5.            Despite the recurrent power shortages and the immense costs of electricity production, Lebanon ranks 57 out of 189 as concerns obtaining electricity in the World Bank Group's Doing Business-Report of 2014.
6.            An App has been developed with which citizens can see at what time power cuts will affect their respective area.